---
We always have new specials to help you save on repairs, services and installation. Call us today to learn more!
---
Heating & Cooling Incentives with Ameren
Everyone wants to have a comfortable home that also saves money on energy costs. Improving energy efficiency is the easiest way to ensure your home heating and air conditioning (HVAC) equipment provides long-term savings for you.
Ameren Illinois' energy efficiency program provides discounts and incentives that can save you hundreds of dollars on energy-efficient products and improvements, such as:
Electric air-source heat pumps
Central air-conditioning units
High-efficiency gas furnace blower motors
Smart thermostats (when part of a qualifying heating or cooling project)
Air-source heat pump water heaters
There are countless reasons to do regular routine maintenance on your home's heating and air system. When your system is working its best, you're more comfortable, your utility bills stay at a reasonable level and you can sleep in peace knowing your system won't be taking the night (or day) off any time soon. Lennox® is proud to be a leading provider of innovative, home comfort heating and cooling systems- it's just another way we make you feel better.
Call now and save with
REBATES UP TO $1,600* on a New Lennox® System.*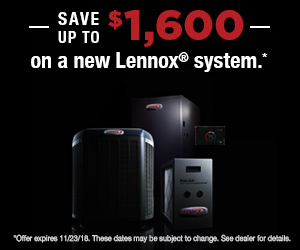 ---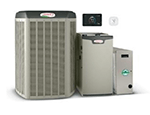 START WITH UP TO $1,250 IN REBATES.*
Save on a qualifying Lennox® home comfort system that includes an indoor unit, an outdoor unit and a qualifying "System Add-On" or "Thermostat." Must include a qualifying "System Add-On" or "Thermostat" to be eligible for the $1,250 rebate.
---
GET UP TO $350 IN ADDITIONAL REBATES WITH THESE ITEMS*
Enjoy additional rebates when you purchase an Ultimate Comfort Indoor System + Ultimate Comfort Outdoor System + iComfort® S30 + PureAirS™ + iHarmony®.
---
*Rebate requires a purchase of qualifying items by 11/23/18 and submission of a completed rebate form (with proof of purchase) to www.lennoxconsumerrebates.com no later than 12/14/18. Rebate is paid in the form of a Lennox Visa® prepaid debit card. Card is subject to terms and conditions found or referenced on card and expires 12 months after issuance. Conditions apply. See www.lennox.com for complete rebate terms and conditions.